Oldenburg, 1998 – from a speech for the Vernissage in the St. Lamberti church-
The pictures, inventory Thirteen herbal pictures and four anatomical pictures of 65 x 35 cm hang in the chapel. Technique: Ogrody on canvas with green inks, partially sprayed on the ground. And then those green pictures, Ogrody. Since 1993, they are a patent of the artist, registered since July 1998, Green, black and white ink on canvas. The color is used only in homeopathic doses, says Gassmann, and only at special times.
An approximation From the creative ground of VIRIDITAS, the "creative power of God" in the sense of Hildegard von Bingen and one with her, arise these pictures: Thirteen herbal pictures and four anatomy pictures are scattered around chapel pillars The canvases are drawn on boxes, about 65 x 35 cm tall.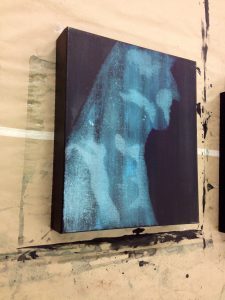 Green figurations can be recognized on black and green canvas. Lady's mantle and fern, St. John's wort and cornflower, rosemary, aloe and velvetleaf are all medicinal herbs. Listed here according to Hildegard von Bingen and related to therapy in humans.
With this installation, Jacques Gassmann builds the bridge between Passion Christi and Hildegard von Bingen's holistic view of the world, the doctor, healer, natural scientist and gifted visionary and, if you will, a far-sighted, critical European and church politician. The installation of herbal images is understood by Jacques Gassmann as VIRIDITAS. About this VIRIDITAS, a core idea in the work of Hildegard of Bingen, I understand the Christ differently and correctly. I also understand the technique Ogrody and the word Ogrody correctly. Ogrody means garden in polish in the singular as well as in the plural. Gassmann requisitioned this term as a technology and designed it into a special program. How far the term garden is to be stretched, one may understand in the sacred and the profane equally horizontally and vertically.
The herbs are here not to be understood in the purposeful, but rather in their pure existence, in their existence within the creation of God. Nevertheless, they are medicinal plants. So based on the anatomical images, their function becomes evident. Gassmann works here in the spirit of Hildegard von Bingen. Green means life and is the oldest symbol color, not only in the ecclesiastical context. I understand the color through the medium and through this decidedly technical technique, the artistic process, the statement.
Prof. Dr. Melanie Luck- of Claparede, Oldenburg, 1998